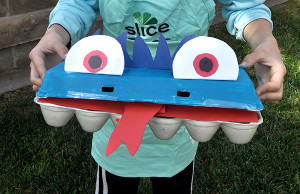 Happy Friday, wonderful artists!
Last week in art you were asked to design your fantasy creature and draw a picture of it.
As we explained last week, your creature is to be made out of recycled materials.
This week you are making!
So, gather up your materials and find your design drawing for last week and get ready to make your creature.
Note – adults, please don't buy any special resources or materials for this learning. We know supplies are limited so one cardboard box or even some paper will suffice. All that is needed is enthusiasm and creativity!
Task:
To create your fantasy creature
Challenge:
To add colour to your creature 
Top Tips:
– Think about placing your materials in lots of different ways before you start cutting or sticking. This means you can keep changing your mind until you're sure about where you want things to go!
– Think about what 2D and 3D shapes will feature in your creature and see if you can cut paper or card into these shapes rather than trying to find a piece of recycling already in that shape!
Good luck, we can't wait to see and hear about your incredible fantasy creatures!